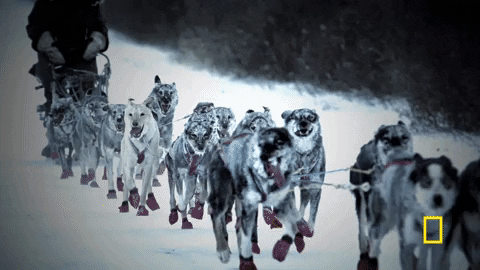 The registered teams are all lined up and the biggest sled dog race of the year is about to begin. Mr. Jackson Mareno and his professionally trained team are ready as they'll ever be, they've been training all year for this race and both musher and dogs are certain that they can brave the Alaskan wilds and be the first to reach the finish line together! However, disaster will inevitably strike along the way and the team will be stranded and wounded in the snow miles from human civilization. Man and dog must work together to survive, or at least try to thrive as long as they can in the wild. Jack may not ever make it home, but maybe his dogs will have a chance. The starting gun goes off...
---
IN TRIBUTE TO
Eight Below, Snow Dogs, Togo, Alaskan Wilderness, White Fang, Call of the Wild, and all the doggos I've ever had on my sled team before I retired
---
The Rules
All Feral Front rules apply here
~:Wanderer:~ is co-owner, respect and listen to him
Classic no power playing or godmodding and all that jazz
Only two dogs per user, one male and one female
Only one wolf per user, any gender
The above two means you can have up to three characters, and no more than that
Northern and sledding breeds only. The musher is a professional and wouldn't put doggos who can't handle the northern terrain on his team. Exceptions can be made if the dog is a mutt but the northern/sledding breed percentage(s) must be more prominent than the other breed percentages(s)
Try to use Alaskan / Inuit names for the dogs. It's not required, but appreciated
Real dog and wolf pictures please. No anime or drawings
No tame / friendly wolves =-=
Two wolfdogs allowed, no exceptions
No wolf X dog romances. Some of the wolves can be nice to the dogs and like them, but the majority will rip them to shreds
Wolves are unlimited, but there are only twelve dogs and one musher
Male dogs go on the left side, females on the right. So that means a perfectly equal gender ratio for the dogs. This formation always worked well for me when any of the females were in heat and prevented dogs of the same gender from harassing each other (minus a couple heel-nippers - I'm looking at you, Nanuk, rest in peace old boy)
You are allowed to swear
It's entirely possible to be killed in this roleplay. Be careful out there, sledders!
You may reserve spots as you please, but reservations only last for a day since the form is very short and simple
Please don't join the thread and never post on the rp or post a couple times and then ditch without warning. This messes up a lot of things in the rp
If you sign up but never post on the rp, your character will be removed from the list and the spot will be reopened
Bottom line, let me know if you will be inactive and why before disappearing
If you end up ditching the rp at any point without warning, your character will be assumed to be dead and the roleplay will continue without you
I do not and will not tolerate OOC drama of any kind on my threads
Play fair! Your character isn't any better than the others. Remember that
The dogs have to be old enough to pull the sled, so no super young dogs or puppies just yet
The dogs must be able to work efficiently! So that means no blind, deaf, or otherwise physically disabled dogs. I am aware that deaf dogs can be sledders (I've trained two deaf dogs before) and I've heard of a blind dog on a team once, but none here please at least not to start out with
The dogs can become permanently injured via roleplay and pups may be born with disabilities though
None of the dogs on this team are related in any way save for mated pairs
Being your own mate is not allowed
Both dogs and wolves can have two to four pups. No more than four but never just one
Put "Mush!" in other if you actually read these rules!
The roleplay will start once we have a full team + the alpha wolf
Try to have fun, because that's all I want for all of you and that's why these rules are in place
---
THE TEAM FORMATION
Lead dog M - Lead dog F
|
Swing dog M - Swing dog F
|
Team dog M - Team dog F
|
Team dog M - Team dog F
|
Team dog M - Team dog F
|
Wheel dog M - Wheel dog F
|
Sled
+
Musher
---
Alpha wolf
Beta wolf
Other wolves
---
DOGS AND WOLVES
(and musher)
2/2 wolfdogs
(one reserved)
Atka - Ulva
|
Tehoronianhen - Tapeesa
|
Siku - Siqiniq
|
Kallik - Qinniq
|
Dakota - Amka
|
Frontier - Meriwa
|
Sled
+
Jackson Mareno
---
Kalama
Nanook
None
---
CREATION FORM
---
THREADS
Sign up: You are here
Roleplay: Click here
Plotting: Click here
---
The musher and female lead dog are my characters. Go ahead and post characters while I get mine set up, and feel free to invite anyone who might be interested in this!