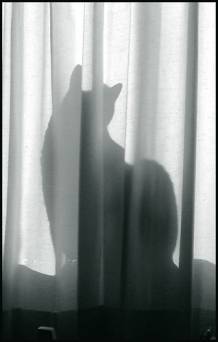 — ⋆ —
「
❝

Something... Something isn't right about him...

❞
Unsurprisingly, Silentpaw was already awake. The thing that made that morning special, however, was that he was instead sitting somewhere in the center of camp and cleaning behind his ears with a paw. Normally he would be hidden off to the side: it wasn't that difficult for him to blend in against any of the ash trees, or within the thick bushes at that. But, for some reason, he had decided to groom wherever this morning.
And of course, he felt eyes on him.
Burning stares, but none which he felt could ever overwhelm his own. His elegant face was a stoic mask, with dark eyes that almost seemed distant unless they were fixated on you. Unfortunately, once he appeared satisfied with his bath, those olive eyes landed on Viperkit.
Silentpaw almost seemed unblinking, his body as still as a tree with one paw still raised halfway to his own chest; before suddenly, he set his paw back down and shifted his gaze. For a second it almost seemed like he would leave the kit alone, but after a few more seconds and a very brief stretch of his hind legs, the young apprentice grabbed a mouse from the middle of the pile and started directly back towards the nursery, where he would soon drop it just in front of the little tom with a tilt of his head, as if silently asking if the child wanted to eat.
—— storage . plotting . skyclan