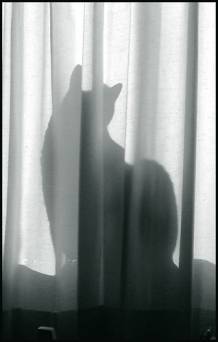 — ⋆ —
「
❝

Something... Something isn't right about him...

❞
The evening sun was comfortable to the young tom. The heat sunk into his pelt, relaxing the lean muscles underneath. He could hear a few elders complaining in a shaded area about how hot it was, murmuring quiet jokes amongst themselves about joining RiverClan for the day, only to take a dip in the river beside the Sunningrocks. His dark-tipped ears would twitch, dismissing this information while olive green hues scanned the entrance of camp for a gathering patrol: it looked like one or two cats were currently discussing going out, but they weren't quite sure whether to go through with the idea or not.
Again, his attention swayed, the blues and peaches of his fur blending against the blue ash tree beside him. It didn't look like any of his siblings were in the main area of camp, so either they were resting in the den or about to return from the previous patrol. An inaudible sigh would slightly part his maw while the blue abyssinian pushed himself out of his loafed position. After a brief stretch that popped his spine in three different places, Silentpaw would return his gaze to the cats debating on making a small patrol. By now it seemed like a few other clanmates were joining the group, exchanging small greetings and idle chitchat.
His whiskers twitched, olive eyes fixated on his clanmates while his form stilled, unmoving even as he noticed a few NPCs glance in his direction. Often he would go into these little trances, simply observing from a distance whether or not people realized they had a pair of extra eyes following them. It usually made people try to avoid him, but he didn't care. Rather, the apprentice found it amusing.
Well... Nothing was going to get done if he just stood around. Silentpaw broke the tense stare, blue-gray and sorrel limbs carrying the slim tom directly towards those gathered, where he would slow to a gradual halt just outside of the circle and lock gazes with the organizer to show he wanted to join them.
(( I feel like his introduction thread could have been better executed, but I kept getting distracted and I just wanted to throw him in here already. :' ) ))
—— storage . plotting . skyclan