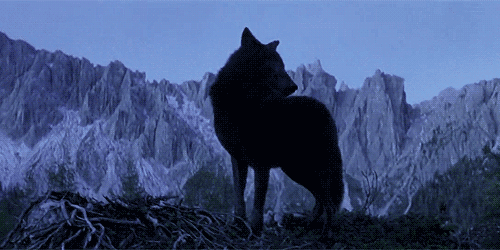 the most common thing felt in the bones of those who encountered a shifter of the ravik pack. these beings were part wolf and part human, commonly know in others parts of the world as 'werewolves'. members of this particular pack don't like this term, a term used to identify beastly beings who lost all sense and control when they shifted. the ravik pack wolves were different. they could shift at will and retained their sanity and self-control while in their other form, though because they were able to do this and evade the laws of transformation, their shifts were painful. the more experience one got with shifting into their wolf form, the less painful it became, though it never ebbed away completely. these shifters were born warriors; their battle prowess commendable and their ferocity and intelligence unimaginable, and they had close to no predators to fear. they were the top of the food chain. until that wasn't the case any longer.
after centuries of the pack living a peaceful life in their secluded territory deep in mountain territory, they weren't the largest predator any more. something has invaded their land and has begun killing off not only the deer and elk they hunt, but pack members who stray too far alone or wander the land they had assumed safe at night. the alpha has put unmasking this unknown predator as a top priority. better they figure out what they are up against before taking action. though how do you go about tracking a predator who seems to leave close to no prints and no scent? the answer is, you don't. it finds you.
NAVIGATION ————— roleplay · plotting
the pack has been ruled by the founding Ravik family for generations, currently being led by Jethro Ravik, the only male offspring of the late alpha. Ravik pack wolves come in a variety of colours, dark mixtures such as black, grey and brown being more common than fawn, reds or russets. though white has recently become common in the previous years. these shifters are highly intelligent and powerful, larger than most of shifter packs and ten times more ferocious. they are a tight knit family and don't regard outsiders with a kind expression.
⇀ all FeralFront rules apply
⇀ posting min: one paragraph + proper grammar
⇀ when posting please try and pretty it up. even if it's just changing the size of the font. but please only legible colours.
⇀ no being your own mate/crush etc
⇀ the age range is 19-35
⇀ to keep genders relatively even, please make at least one of both genders if you are making multiple characters new!


⇀ if you have an idea for drama please run it by me first! all plot twists and game changers must be given the okay by myself before they are carried out.
⇀ for faceclaims/photos - both human and wolf - they must be realistic. no drawings or art will be accepted. no wolves with different coloured eyes or pelts will be accepted either.
⇀ one high rank per person.
⇀ please stay active. if there has been no activity from you within a 2 week time frame you're characters will be cut, unless you have spoken to me in advance.
⇀ do not leave forms unfinished. if the roleplay begins before your form has been finished you are expected to finish it prior to posting.

Overall Territory
the land that the pack lives on is secluded and about a couple miles from the nearest town. they live in what's called a 'mountain range'. the forests around them are dense and made up of mostly coniferous trees such as firs, pines, redwoods and spruces.
-- Reference.
Living Area

the pack's cabin is large and spacious with enough space for the members to live comfortably without feeling claustrophobic. each pack mate has their own room, unless of course they request to share one. the front of the house is facing a slope and a large balcony is situated on the second floor. underneath the overhang of the balcony is an outdoor seating area with chairs, and outdoor couch and a cushioned swing, with a fire pit off to the right. the few cars that the pack owns are kept under a shelter to the left of the cabin and are usually only used to makes trips into town.

-- Reference.
males: 5 | females: 7
* = incomplete forms. must be completed before you roleplay
Alpha Male --

✝ Jethro Ravik - male, 31 years , roleplayed by tigress.

Alpha Female "Luna" --

✝ TBD, roleplayed by TBD

Beta --
✝ Nicholas Williams - male , 32 , roleplayed by Hopes~Wings  

Medic --

✝ Viktor Vladimir - male , 27 years , roleplayed by Wolfiee  


Delta --

✝ Thomas Hemlock - male , 22 years , roleplayed by aliferous
Hunters --


✝ Beverly Ravik - female , 23 years , roleplayed by tigress.

✝ Nesryn Chase - female , 22 years , roleplayed by bluedreamer  
✝ Abby Williams - female , 19 years , roleplayed by Hopes~Wings  
✝ *Daisy Cambridge - female , 22 years , roleplayed by maycie.  
✝ *Maya Barron - female , 25 years , roleplayed by Naturally Wild  
✝ name - gender , age , roleplayed by user
✝ name - gender , age , roleplayed by user
✝ name - gender , age , roleplayed by user

Fighters --

✝ Beckett Acker - female , 25 years , roleplayed by tigress.
✝ Gabriella Vladimir - female , 25 years , roleplayed by Wolfiee  

✝ Shen Wei - male , 32 years , roleplayed by bluedreamer  
✝ *Morgana Winchester - female , 27 years , roleplayed by maycie.  
✝ name - gender , age , roleplayed by user
✝ name - gender , age , roleplayed by user
✝ name - gender , age , roleplayed by user
✝ name - gender , age , roleplayed by user
The Choosing --
a ceremony that occurs after a pair request to become mates. when a male and female want to become an official couple in both the eyes of the pack and the Moon Goddess, the alpha arranges The Choosing ceremony in which they both exchange vows and bite each other at the base of their neck where it meets the collarbone. once they have marked each other, another mark will appear known as The Mate Mark. these are used to identify mated males and females and are unique to each couple.


CRUSHES
N/A
MATES
N/A


KIN:
Jethro + Beverly [siblings]
Nicholas + Abby [siblings]