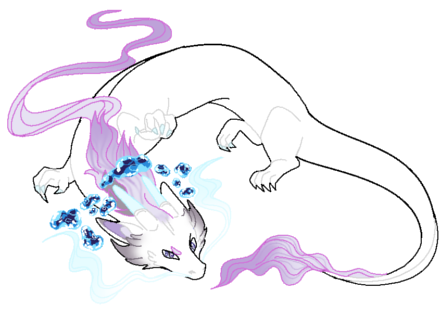 VALOZIAN DRAGON / BLIZZARDCLAN / TAGS & INFO
Bai-Chen had tried his best to calm down, but nothing was working. The dragonling, in his own way, had been pacing for hours now. He'd fly and writhe through the open air and clouds, trying his best to find solace in the air, but the wind stung his slightly burned eyes and nose, constantly forcing him back to land. But, too terrified to remain under the trees, he'd burrow his way into a bear cave he found beneath a rocky outcropping. It was tight, but he curled up around himself until he was a ball. He'd lay like this for an hour, but small cave + tight restriction of your own body + hyperventilating did nothing to sooth the ache in his chest and agony pounding in his head. So, once again, he took to the air, repeating the cycle.
The repetition did not sooth his fears.
He could still see the lynx - the lupurica - and her flaming wings. The corpses and limbs and guts strewn across the air - HIS air - with no regard to life, honor, or nature. He could still feel the flames, licking against his face. Could still see the wild look in her eyes. Could still smell the blood. Could still hear the easy crunch of PErcy's spine against the tree.
What if she was out there? Waiting? What if she was coming back to finish Bai-Chen off?
Every sparkle from the sun sent Bai-Chen spinning back to the ground, horrified that her fiery wings had returned.
But he was no safer in his cave.
Because what if she found him here? She'd have no problem burning him alive, or cutting him up, in this small space. He was trapped!
He was trapped in the sky.
Trapped on land.
He was trapped here in Blizzardclan's territory and trapped outside of it.
Nowhere was safe!
It was as the male was pushing and shoving his way out of the cave to take off again, when he spotted the snake.
A rather large onyx snake that was simply passing by, but it reeked of Vale.
Bai-Chen, dizzily, through the ache and spin in his skull, recalled Vale's warnings about dealing with snakes.
But...but what did she know? She was trying to give him rules that nature dictates when she was so utterly unnatural herself! She could command her snakes to do whatever she wanted! She, too, could kill Bai-Chen at any moment if she wanted!
Breath coming in ragged gasps, Bai-Chen took a step towards the snake.
He was in danger.
He was going to die.
He had to defend himself!
It was easy killing the snake.
Lunging forward, Bai-chen gripped it's neck, just behind it's skull. The creature thrashed it's long body in vain, but Baichen's teeth were too sharp and accurate to escape, and with how close he bit down to the back of it's skull, it couldn't turn around and bite him back.
Bai-Chen slammed a paw down hard on it's tail.
He strained his head back, his thoughts a whirlwind as he felt the elasticity of the snake's skin, muscles and bones stretching between his teeth and his talon. He pulled and pulled until, at last, it was torn apart.
But the fear, the horror, the anger and the confusion surged onwards. It screamed like a primal storm in his head and chest, howling and begging him to save himself - Save me! SAVE ME! I don't want to die!
So Bai-Chen ripped more and more, tearing into the poor animal like a rottweiler would a stuffed toy. He shook it like a ragdoll, slammed it against the ground, ripped and pulled it again and again.
It was danger.
It was poison.
It was death.
It was the epitome of unnatural chaos.
Killing it wasn't enough.
Destroy it.
Rid this world - Bai-Chen's world - of this vulgar, unnatural filth!
And that's exactly what Bai-Chen did.
The murder lasted only a few minutes. It was as easy as tearing a piece of paper, and yet Bai-Chen stumbled back and pressed against the side of the cave, his breath ragged and harsh. He pressed a paw against his head, unrealizing he was smearing blood across his forehead. But there was plenty soaking his muzzle. His perfect ivory head was stained scarlet completely.
He closed his eyes, struggling to breath and calm down, too busy with that to take notice of the cruel consequence of his actions.
The snake known as Felix was nothing but a bloodied pulp on the floor. The only thing that could help it be recognized was the head resting a short ways from Bai-chen.
"Speech."