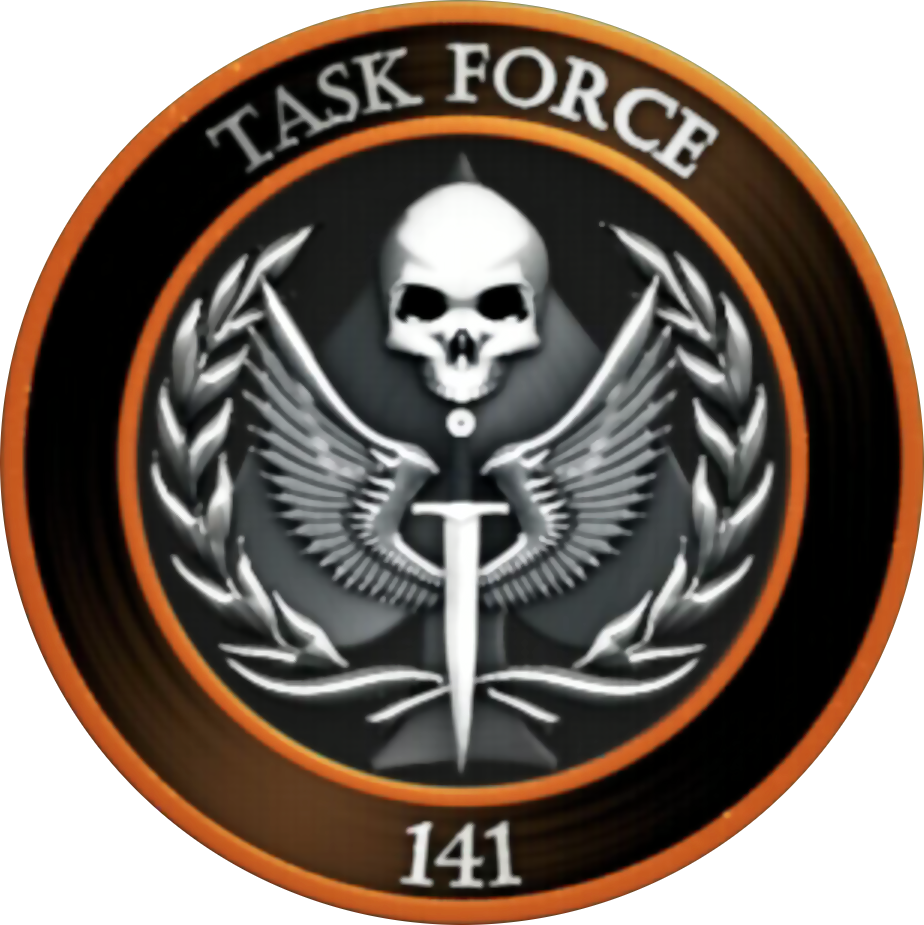 TASK FORCE 141
Introduction
Task Force 141, simply sometimes abbreviated as 'The One-Four-One' is a group of multi-Clan elite warriors hellbent on bringing justice to the world. Their plan is to root out all evil, even in places where evil isn't thought to be, and to fully destroy it. Most soldiers who call the 141 their home are often experienced, though this is not always the case.
Rules
OOC Rules--these CANNOT be broken
1. Be nice to each other!
2. Bring up possible plots with me first.
3. Don't understand something? Well, we can help! Just ask.
4. Have fun!
IC Rules--these CAN be broken but with IC consequences
1. Be respectful of others, even your juniors. This is a military-style area, after all.
2. Don't do something stupid, that may get yourself killed or cause enemies for the 141. Please.
3. Safety in numbers. No one is to go on a mission alone.
4. Don't be fooling off in your downtime. Okay this rule can actually be broken without a consequence 
Territory
Island Base
Task Force 141 makes their home with the Rift, with the permission of their leader, Cyrus. On that island, they set up the barracks in a huge white Greco-Roman style building, with columns and such. However, this building as a modern twist, such as a roof, modern amenities, etc. In the upstairs of the building, is the meeting room, and appears to be a traditional Roman Senate, with benches. On a building to the side, is the mission hub. This area bustles with activity as people come in to request missions and to take them. A building across the barracks houses the supply area and the medicine quarters.
Mainland Base
This base is secured within ThunderClan's camp and is generally favored due to the Walls. Task Force 141 seem more at home, taking houses and cabins to themselves, but still having the Medicine quarters, mission hub, and supply hub.
Ranks and Meanings
High Positions
Field Commander:
The leader of the 141. They run missions, meetings, and what they say goes.
Capt. John 'Soap' MacTavish -- Muddymutt
Field Grade Officers:
The deputies of the 141, to succeed the Field Commander should something happen. They are also the ones in charge if the Field Commander is missing, and are generally held with a great amount of respect.
1Lt. Frightfur 'Bullet' Seraphim
 
1Lt. Maskedhorrors "Ghost" Riley-- sahloknir
Command Sargeant Major:
The Command Sargeant Major, or CSM, runs things for the enlisted. They are considered the highest of the enlisted. If there is an issue, the CSM will bring it up to their higher ups and work together to find a solution. However, the CSM also acts as a counselor, helping the soldiers in need.
  CSM.  Deutschland Germanicus "West" Schmidt -- Felibri
Medics:
The medics, either enlisted or officer, are one of the most important ranks. They are the healers of the group, and with the missions, there's going to be a lot of healing needed.
Lt. Jonathan
'Doc' Stevens-- Boltface662
Name--Roleplayer
Name--Roleplayer
Semi-High Positions
Warrant Officers:
Considered to be the experts of the field, Warrant Officers act as junior advisors and come up with plans, battle strategies, etc.
WO1 Fairylights 'Sunshine'-- Fairylights
Corpsmen:
The medicine apprentices, though they are most often seen healing on the battlefield.
SSG Taylor 'Ice' Abiglen-- Boltface662
Name--Roleplayer
Senior Enlisted:
A stepping stone rank for activity and helpfulness, many can earn this rank. However, they are supposed to also act as a welcoming committee for new members and mentor them.
1SG
Westernfront "Grey" -- Felibri
1SG Zjarr "Heatwave"
Normal Ranks:
Enlisted:
The normal rank, members generally start out as this. Ten months and above.
Recruits:
The younglings of the 141 who have much to learn. Nine months and below.
 Thread Hub
TASK FORCE 141 BARRACKS ★ CHAT THREAD
we only have one shot at this || 141 joins
open up the pearly gates || 141
Sign-Ups/Joining