Name: Companion Cube Artificial Intelligence Apparatus (CCAIA, or 'Caia')
Age: 3 Months
Species: I guess Even though it's just a companion cube with AI, it can be considered a 'Robot' due to some 'things' the scientists added to make the companion cube a better companion...
Appearance: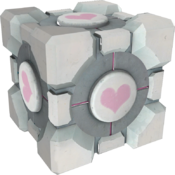 The same as a regular Companion Cube, but the corners are a hot pink color.
Purpose: LOVE AND COMPANIONSHIP IS ALL HE KNOWS! (Aka, he is meant to give comfort and companionship to test subjects.)
Personality: CCAIA, or Caia, just like it's programming makes her, she is a lovable companion for most anybody, doing her best to give love and comfort to the test subject she is with. Although, Caia was never fully complete, so there is a bit of a glitch in her systems. Due to this glitch, alongside being an AI capable of other emotions, there is a limit to the Companion Cube's kindness, causing Caia being capable of being angry. And if Caia gets angry... May God help your soul.
Abilities:
- Obviously, is an AI, and capable of a large range of human emotions.
- Caia's corners are capable of detaching from the body to make legs, giving Caia mobility
- Hidden in a secret compartment is a small SMG, for helping his companions when they need it most.
Weaknesses: Like stated before, Caia is slightly defective in the fact that she can get angry with enough pushing on someone else's part, despite how hard she tries to be nice. This causes her to go into a rage mode, which is especially dangerous due to her having possession of a gun.
History: (optional)
Other: So, what do you guys think?